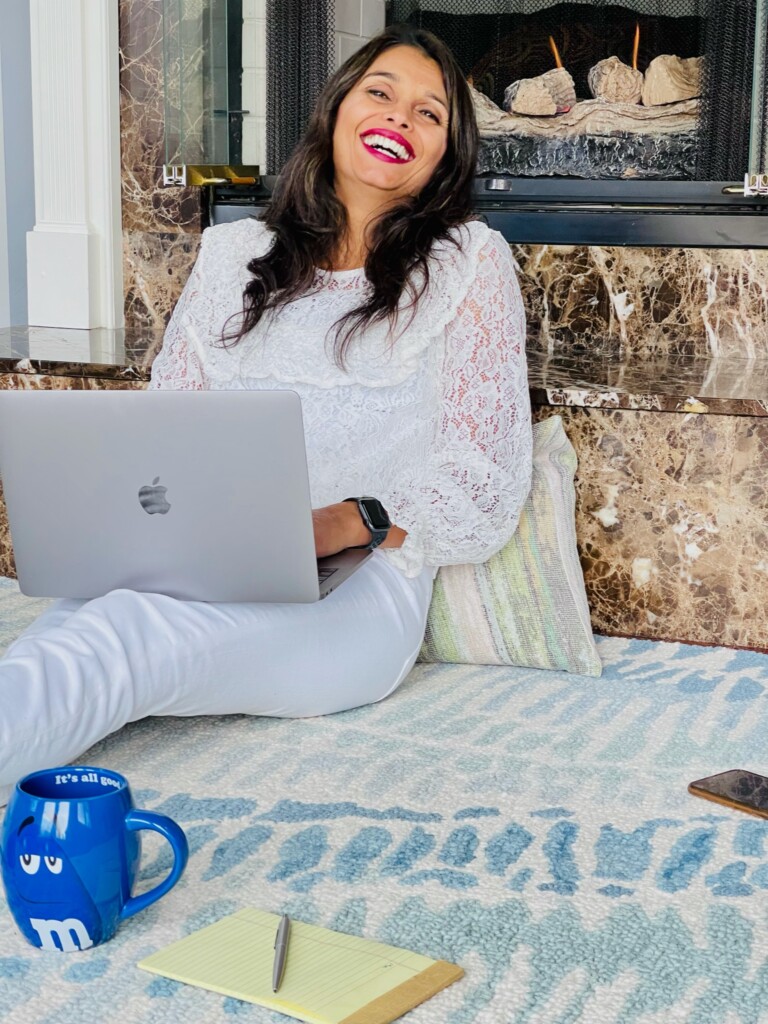 About Me
What sparks a light in you?
My journey to helping others shine began when I saw my first fireworks show. I was 14, and after having been born and raised in India, I had just arrived in the United States two days earlier. I knew very little English, but I loved being at that new kind of local fair, meeting new people, experiencing a new culture, and seeing those bright sparkles illuminating the sky for my new country's birthday.
Two months later, I entered high school as a freshman, determined to learn the language and find my place while meeting my father's expectation that I would continue to make the honor roll. All went according to plan, and after graduation, I entered college with a pre-med biology major and enthusiasm to take on the world.
And then, in my sophomore year, I began a two-year battle against depression and thoughts of suicide.
That was a dark time, but it led me to another bright new start: psychology. I've always been curious about human behavior, but, somehow, I'd never known psychology existed as a profession. Inspired by a required undergraduate course in psychology and my own drive to find out if I even deserved to be happy, I devoured books about self-help, self-healing, and self-love. I explored mental health disorders, human nature, positive psychology, and the importance of connection with your deeper self. I learned to be resilient in the face of struggle, and to be self-sufficient in every sense: emotionally, mentally, physically, academically, and financially.
By getting rid of my own shadows and spreading light in my dark corners, I gained the game-changing strength to face – and overcome – my fears and move into a place of grace. I have become more kind, loving, and non-judgmental toward myself, and realized that happiness doesn't have to be earned.
And as I fell in love with psychology, my path became clear. I took some extra summer classes, changed my major, and eventually completed my bachelor's, master's, and doctoral degrees in psychology. I spent nearly 20 years working to support mental health, including more than a decade helping clients in my own successful and fulfilling private practice.
I am a self-help enthusiast and explorer of the connections among counseling, Eastern philosophies, and, perhaps surprisingly, quantum mechanics. I believe we are all connected at those quantum levels that are the building blocks of our fascinating universe, which underscores the fact that we all matter in the bigger scheme of things.
I'm passionate about exploring spirituality, the subconscious mind, human potential, self-actualization, and how to reach our full potential. The quest to know my own depths and reach my own heights continues as I embrace new ways to help others attain mental health and wellness and live their best lives as well. It's rewarding for me to see someone who feels like a trapped victim move to action and feel in control of their own destination.
That's why I have gradually been expanding my professional arena to include more of the fascinating opportunities I've enjoyed while speaking at corporate trainings, workshops, university lectures, keynote presentations, and more. I particularly love motivating disengaged employees to re-evaluate their choices so they can re-engage to improve their careers and their lives. Whether I'm with one individual or 1,000, I feel energetic and alive when I can look people in the eyes and tell them that they are already connected to the universe, and they don't have to do or be anything to deserve love and happiness – it's already here waiting for us.
I've experienced that universal grace myself as I overcame the odds to co-create the life of my dreams. Years ago, I was diagnosed with stage 4 endometriosis and given a very low chance of ever getting pregnant. When my husband and I were ready to start our family, traditional medical interventions failed, and my fertility team assured me I could never conceive. With the help of acupuncture – and the universe – I got pregnant, naturally, that same month.
Today, we have two beautiful, healthy daughters, and it was our firstborn who helped me realize my true purpose.
Officially, I'm a licensed professional counselor, certified clinical mental health counselor, executive coach, author, public speaker, and adjunct faculty member – not an easy career to explain when your five-year-old asks you right before bedtime, "Mom what do you do for work?" My reply was simple: "I listen to people talk about what makes them sad, and afraid, and excited, and happy. Then I help them figure out how they can be even happier." Then she summarized it even better: "You help people be happy."
And that's exactly what sparks the light in me: supporting, uplifting, and motivating people to find their happiness.