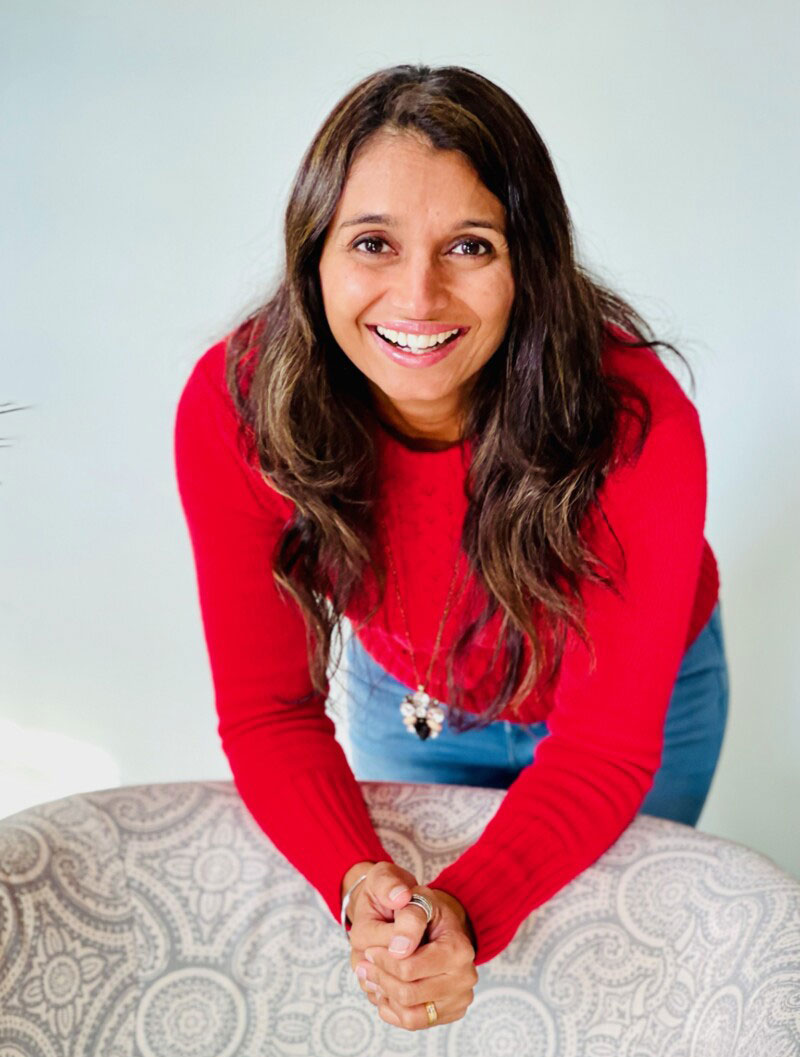 Hello There!!! I am Dr. Kaur at Living Excellence Today.
I am a Licensed Professional Counselor and a life coach committed to helping you realize your true worth.
Through Living Excellence Today, I strive to provide tips, tricks, and powerful, actionable strategies to help you grow and leave overwhelms, anxiety, and insecurities behind so you never feel like you're "not enough."
I teach individuals how to embrace their whole Self to find their true worth and ever-lasting confidence. The journey to embracing your whole self often starts with realizing that I am overworked, unhappy, spent, and unsatisfied with life.
Sign up today to receive simple, actionable guidance delivered to you in your inbox every Thursday!
Free Virtual Seminar
Stress Be Gone: Mindfulness Techniques for Everyday Stressors 
Looking for a way to understand how to cope with the overburdening stress in your life and the effects it can have on your physical, mental, and emotional health? Sign up to join LET and receive video footage of the live online seminar where Dr. Gurpreet Kaur shared how to recognize and deal with immovable stressors.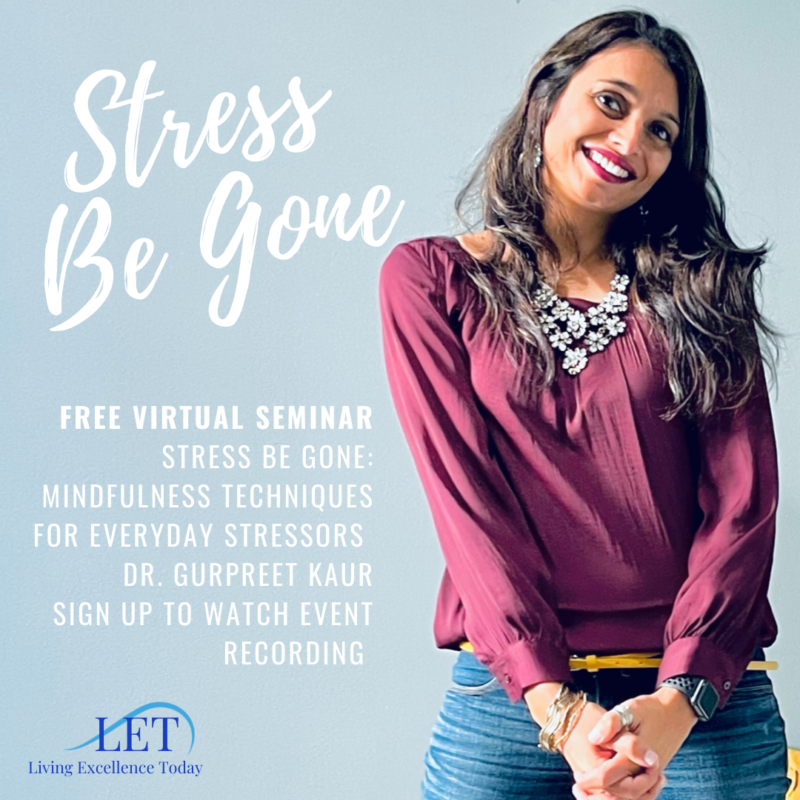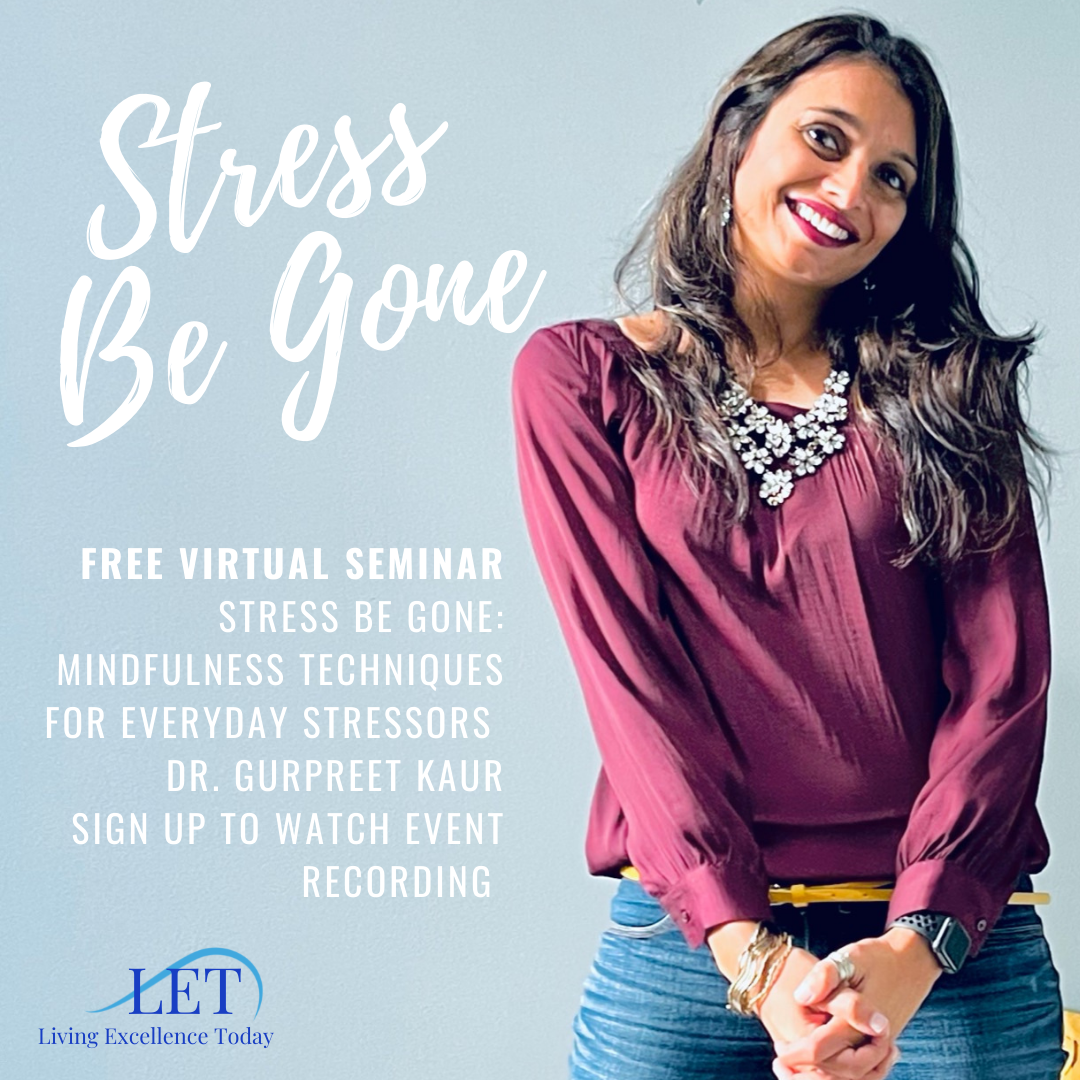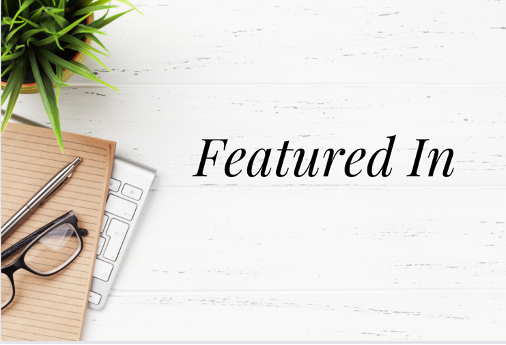 "What you seek is seeking you"
– Rumi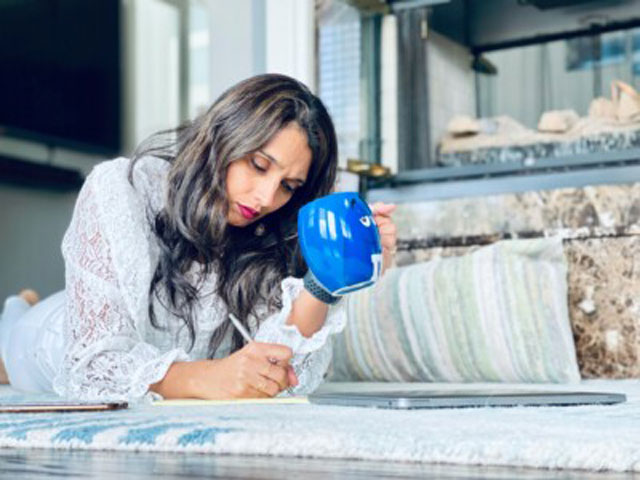 How often do you feel overwhelmed with all the tasks and duties across the board? You take on more and more on your shoulders and end up feeling anxious and worrying about everything. The time runs through your hands, and you just don't get enough hours per day?
Many of my clients come to me with these problems. We all want to achieve more, to get more. Yet our desires often hit roadblocks on the way to the reality that we can't explain. Usually, these roadblocks are of emotional or psychological nature.
My Doctorate research in Counseling Psychology combined the Principles of Quantum Mechanics with Psychology. The clash of these seemingly uncombinable sciences brought me to the discovery of significant similarities that make understanding how the world functions so much easier. I am excited to be sharing this knowledge with my clients.
You must take care of yourself before taking care of the world. Learn how to fill your own cup first! Be selfish in a good way. My most profound belief based on experience is that you can't give love, empathy, happiness, or create something great unless you can give that to yourself. Learn to love yourself. Learn to put yourself first. Put your own mask first to start enjoying your life!
Dr Kaur's coaching has continuously helped me to improve myself and my business.
JOE
Cream Ridge, NJ
Dr Kaur helped me dive through my own motivations and anxieties to reach a more peaceful place.
PRIYA
Mount Laurel, NJ
Dr Kaur is the most effective in helping me determine, define and address my issues.
TROY
Rhinecliff, NY
Dr. Kaur
It can be difficult to see your worth when you are hard on yourself. Self-loathing is when you believe that you are not good enough or will never be able to accomplish your goals. Healing [...]
Dr. Kaur
The Dalai Lama once said, 'With realization of one's potential and self-confidence in one's ability, one can build a better world.' And that is the power of self-confidence. There are times in life when we feel that we [...]
Dr. Kaur
Intro Practicing mindfulness has been a hot topic recently, and many people have opinions on this topic. In fact, 40% of Americans meditate weekly, 8% meditate once or twice a month, and 4% do it [...]
Sign up for free Newsletter today
Be the first to learn about our news and program offerings. Unsubscribe at any time.